"This is just an old house, Le Marchant is a character from some scary
story, the box a myth and hellworld....just a game."
The eight installment begins with a funeral..the death of a sixteen year old boy named Adam. His friends, Mike, Alison, Derek and Chelsea are all there. So too is his other friend Jake, who believes they are all responsible for his death. It seems that his death is linked to an Internet game based on Hellraiser ľ Hellworld.
Two years have passed since his death, and through the same Internet game the four friends are all invited to the fifth annual Hellworld party...and when they arrive they are reľunited with Jake. They are met by the organiser of the party (Lance Henrikson), who gives them a tour of the house and all of its Hellraiser related contents. We learn that Le Marchant was the architect of the house, his second most prestigious piece of work (after the lament configuration of course)...yet it appears that Henrikson's character has more on his mind than simply playing the amiable host. It isn't long before the friends begin to meet their makers, and indeed the death of Alison by some decapitation contraption is the highlight of the film.
Whilst we see flashed of pinhead interchanging with Henrikson's character, the set up is not all that it seems, and Henrikson has a purpose, a vendetta to settle, he has revenge on his mind...but why?? In the early stages of the film I simply waited for Pinhead to take over proceedings....but unfortunately this doesn't materialize and the anticipation I had before seeing this film resulted in disappointment. There is not enough Pinhead, the story has gaping holes and even the inventive methods of death cannot save this disappointing installment of the Hellraiser films.

Copyright(C) 2007 - 2020. All rights reserved.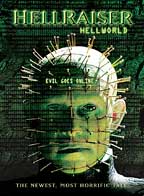 | | |
| --- | --- |
| Directed by | Rick Bota |
| Produced by | |
| Written by | Joel Siosson Clive Barker |
| Starring | Doug Bradley Stella Urian Katheryn Winnick Anna Tolputt |
| Distributed by | |
| Release date(s) | 2005 |
| Running time | 91 minutes |
| Language | English |
| Budget | Not known |